Best Tips to Choose your Ballet Shoes
Best Tips to Choose your Ballet Shoes
How to choose the best ballet shoes? Whether you are an advancer or beginner dancer, this issue is key. In this article, we want to offer you some recommendations and information of interest so that you can make the best buy possible.
First of all, what are ballet shoes?
To begin with, we have to explain what kind of shoes are used in ballet because it´s common for there to be confusion about this topic. There are two types of shoes: ballet shoes and pointe shoes, each of which has different functions and uses.
Ballet shoes are lightweight shoes made of leather, canvas, or satin with a thin, flexible sole. They are usually available in pink, flesh, white or black. Traditionally, women and girls wear pink ballet slippers, and men wear white or black.
To understand the use of ballet shoes, we have to explain how a typical ballet class unfolds. Generally, a ballet class lasts about an hour and a half and is divided into two parts: the barre and the centre. Each of these parts can last around 45 minutes, but this can vary depending on the level of the dancers.
On the other hand, there are the famous pointe shoes. Without a doubt, this shoe is identified by most people as a ballet synonym. These shoes are similar to the previous ones, but they have a reinforcement on the front part. Its objective is that the dancers rise above them, supporting the weight of their entire body on the tips of their fingers.
Ballet shoes are usually used during the first part of the class, the barre. And they are also worn by beginning dancers and men. Instead, pointe shoes are worn by the advanced female dancers in the second part of the class, the centre. And the female dancers also use them during theatre performances. The men wear only ballet shoes. But in some cases, men can wear pointe shoes for their training routines.
How to choose your ballet shoes
When buying your ballet shoes, you have to think about many factors. So, you'll have to choose a shoe that adapts well to your foot in length and width. Here are some typical characteristics of the different types of shoes
Colours
The most traditional colour is pale pink, although currently different colours are used, the most common: pink, white, black, grey and flesh colour. Pink is often used for girls and white for boys. On the other hand, flesh ballet shoes are appropriate for any dancer.
Materials
There are also different types of materials; canvas, leather or satin. Leather shoes are more resistant and are often used to strengthen the muscles of the feet and ankles. Plus, they help keep your feet warm. However, over time, the leather becomes hard and stiff, which reduces comfort. In addition, we do not advise you to wash them because you can ruin them.
On the other hand, canvas shoes are more flexible and fresh. Also, they are easier to wash. But after washing, they may shrink a little. Besides, they can wear out more quickly. Finally, satin ballet shoes are preferred by women since it's silk or cotton. The main feature of this fabric is its soft shine. This gives it distinction as well as being smooth. They can be easily dyed to modify the colour to suit the user. But I do not recommend washing them, because they are very delicate. To keep them spotless, I suggest cleaning them with a damp cloth.
To sum up, if you are looking for something durable, leather shoes are for you.
Size
Size is another of the main aspects since it will influence your comfort a lot while you are dancing. First of all, it is necessary to mention that the size of ballet shoes generally does not match your street shoe sizes. This can also depend on the models and brands. So, each one can use different sizes charts.
So we recommend the following. If you are starting to dance ballet, the best you can do is to follow your teacher's recommendations and buy the shoes in a specialized shop. So you can try them with peace of mind and see if they are right for you. We already anticipate that there's no such thing as the perfect ballet shoe.
When it comes to dancing, all sorts of things come into play – your biomechanics, your weight, and the shape of your feet, meaning no one shoe will suit every kind of dancer. You should also think about the instep and width of your foot. In any case, one of the techniques to know if you have succeeded is to perform a plie in the second position. The shoe should fit snug but not tight. Finally, your toes should be comfortable and never bent.
Sole
There are two kinds of sole: full and split. The full sole covers the entire sole, from the heel to the tip of the toes. On the other hand, the split sole is separated into two halves so that it only covers the toe and heel area and not the rest of the foot.
When to choose one or other ballet shoes? The main advantage of the split sole is that it creates more flexible ballet shoes. Besides, a split sole will allow your shoe to fit much better.
.Generally, the full sole is appropriate for dancers who are starting in ballet. This helps them to work on their strength. There are also split sole shoes with a breathable mesh or elastic material on the arch. This gives them much more flexibility.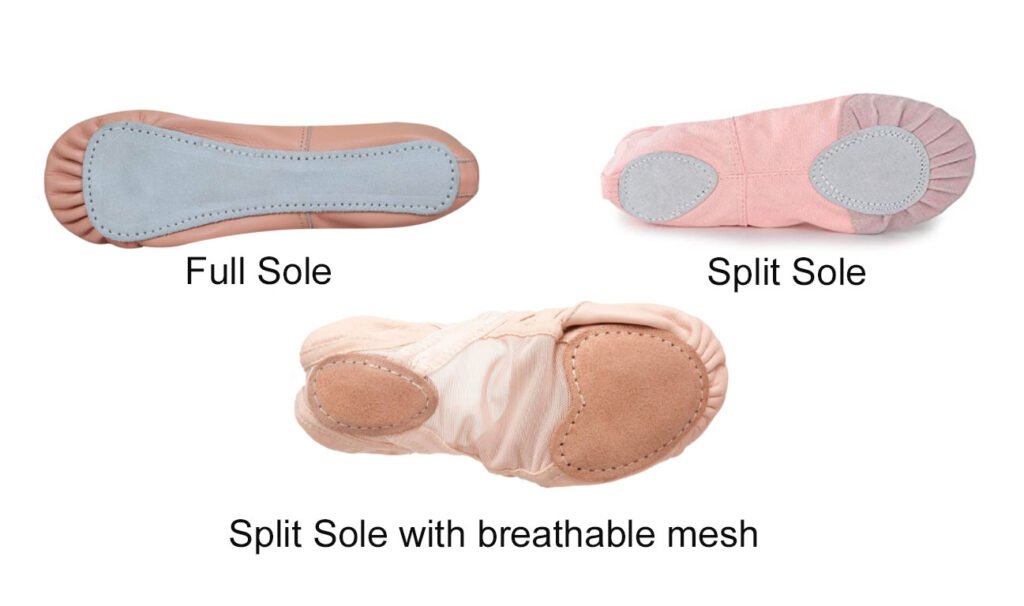 How to secure the ballet shoe to the feet?
All shoes must have an elastic band to secure the shoe to the foot. Usually, two bands cross in the shape of an "x", or a single elastic band through the foot instep. It's also a personal decision. If the shoe you buy doesn't have the elastic band already sewn, you'll have to sew it.
In addition, many ballet slippers also have drawstrings. This has pros and cons. The main advantage is that it allows you to adjust your ballet shoes until you achieve a perfect fit. On the other hand, one of the disadvantages is that the knot tends to come undone, and you have to interrupt your ballet practice to tie them. In addition, dancers usually hide this knot below the upper shoe. And this can be very annoying if your skin is sensitive. I have had blisters because of this knot.
Many shoes are also tied with ribbons around the ankle. Their main advantage is that they make your feet look much prettier. But their con is that they can be untied.
To sum up, in the market you can find three different types of shoes:
1) ballet shoes with elastic band
2) ballet slippers with elastic band and drawstrings
3) ballet shoes with an elastic band, drawstrings and ribbons.
In the following video, you can watch how to tie your ribbons.
Conclusion
Ballet is a practice that you can't learn overnight. Generally, most people start as children. And they continue beyond their youth with this passion, improving and perfecting the technique. If you're looking for a polished, elegant result or preventing injuries, you need to select the right ballet shoes.
If you have come this far, it is most likely that you are just starting in this amazing world. We hope we have shed light on this dance topic. And now you have everything clearer and can choose the right ballet shoes for you. Step by step (never better said), you will become the dancer you dream of. So make an effort to get your goals and always bet on quality items.